For fastest and most accurate quote, try to provide as much detail about your project as you can. Please note, you will be contacted via phone or email about your project to confirm details.
Can I provide my own item(s) for printing?
Absolutely! We will take a look at your item to make sure it will handle the printing process. However, they are some materials that would turn out well with the process.
How is pricing determined for screen printing?
There are numerous variables that determine pricing for screen printing.  First, what kind of shirt do you want?  Do you want a regular cotton tee or do you want a softer, more fashionable tee?  Do you want long sleeve or short sleeve? A long sleeve will usually run you about $3 more per shirt.   How many shirts are you going to order.  The more you order, the less the shirt will cost. Where do you want us to print?  Do you want front only or do you want front and back or maybe on a sleeve?  The more locations we print, the more expensive the shirt will be.  How many colors of ink do you want to use?  Do you want 1 color, 2 colors or more?  The most we can print is 6 colors and 1 of those colors has to be white if we are printing on a dark shirt.  Because of the variables, it's easier to call us to get a good quote.
Do you charge a set up or art fee?
If you purchase the items to be printed on, we don't charge a set up fee.  However, if you choose to bring in your own shirts, there will be a set up fee of $15 per color, per location.  Only in extreme situations, do we charge an art fee.
If I send you art for embroidery, why is there a digitizing fee?
Embroidery machines require a special format to enable it to sew your art the way you want it to look.  We can digitize text ourselves, but if it's anything else, we send it out for digitizing and pass that fee along to you.
Can I pay a rush fee to have my order expedited?
No, we don't accept rush fees.  We do our orders on a first come first serve basis to keep it fair for all of our customers.
Your Brand or Design on T-Shirts, Bags & More.
Having over 10 years experience in the industry, we will take great pride in your project and print every detail with the up-most confidence.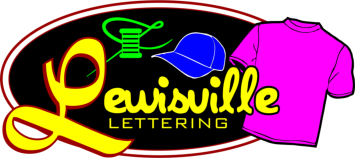 Our Shop
(972) 221-7286
701 S Old Orchard Lane
Lewisville, TX 75067